The fashion rumour mill has hinted that Belgian designer Raf Simons is set to take charge at Calvin Klein at the end of this year. Simons would step in at a time when the house is completing a major creative business restructuring, under their new Chief Executive Steve Shiffman. Shiffman is moving the house in a positive direction by playing upon more than just the CK logo. It has been reported that the exits of Francisco Costa and Italo Zucchelli (Creative Directors of Calvin Klein ready-to-wear women's and men's respectively) is the first key step in bringing the Calvin Klein brands under a singular creative direction.
Thus it seems Simons would have creative control on all the ready-to-wear lines of a multi-billion dollar a year fashion powerhouse. The recent shifts in Calvin Klein's business strategy present an opportunity for the company to revamp the commodified banality of New York fashion with a new, more meaningful artistic statement. Simons detests the current fashion model, especially because it is guided by fleeting trends and social media campaigns.
He left the helm at Christian Dior primarily because he was forced to produce new, complete collection ideas for production often at a monthly pace. This inhibited his desire to allow ideas to develop to their full success or failed potential within his mind. Simons works very conceptually on his collections, starting from large, wall sized mood boards with various colour, pattern and shape ideas, which are then translated by sketch artists into garment designs. He then consults with the drawing teams over time, to develop the ideas correctly based on his vision for the upcoming collection. His style involves a very detailed, team-oriented process that takes time to establish.
At Calvin Klein, he would be designing or overseeing roughly six runway collections per year, the same as Dior, because he would also be responsible for menswear. This satisfies his desire for more creative control within different facets under a large house, but leaves the time constraints intact. However, since the ready-to-wear collections have up until recently (with the shift in chief executives at CK) been seen solely as a "marketing expense", beneficial for editorial and PR campaigns, Simons would have the chance to create something great within American fashion once again.
The financial success of Calvin Klein and reputation within American fashion history, provides Simons with the perfect opportunity to use his talents on a large scale, but with more benefits than at Dior. He would be able to send a message that American fashion doesn't circulate solely for attitudes driven by immediate gratification and social media. His ability to combine his personal designs, grounded in modern styles of art both of the past and present, with minimalism would work well with Calvin Klein's roots in sportswear.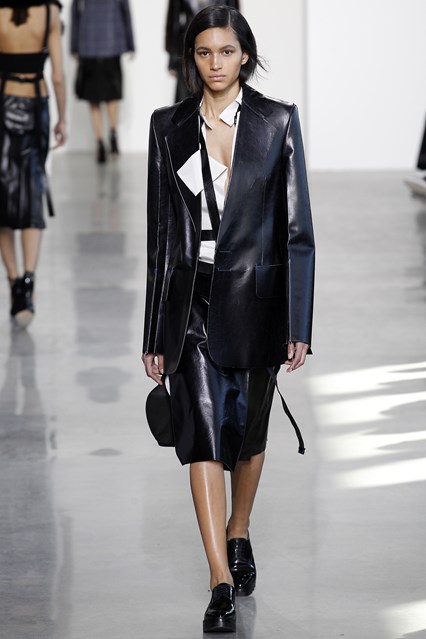 Francisco Costa for Calvin Klein FW'16 collection
Currently, Calvin Klein's owners, the Phillips-Van Heusen Corporation, have developed a brand image that is too accessible. The business strategy needs to be fostered beyond mass market licensing, and come from a focus on the artistry and intelligence gained from fully conceived seasonal collections. If Simon's move to the house is pushed through, his ability to shock and retain the loyalty of the fashion public and press, despite decreased attention spans, can once again have wide-reaching, global effects, and change the way America contributes to the conversation.
Words: Annunziata Santelli
Images source: BFAnyc / WENN / Vogue Runway