To make art in a zone or time of conflict comes as close as it gets to bringing order to chaos. If we seem to live mythical times, where war might as well be a god walking the earth, artists in conflict areas could be seen as heroes, overcoming their human nature and routinely taking up arms against chaos. what then is the role of escape, as a political and cultural gesture? What is the value of running away as an aesthetic exploration of crisis and conflict?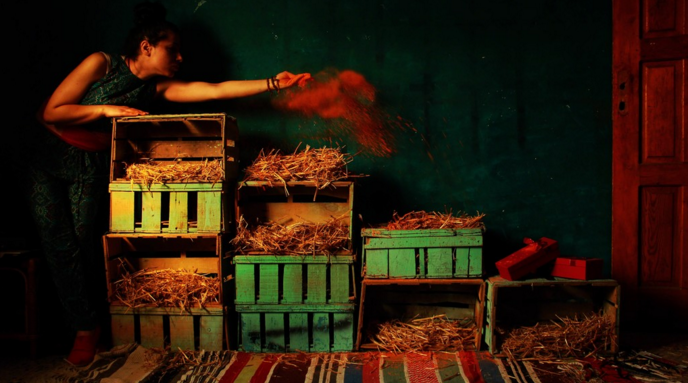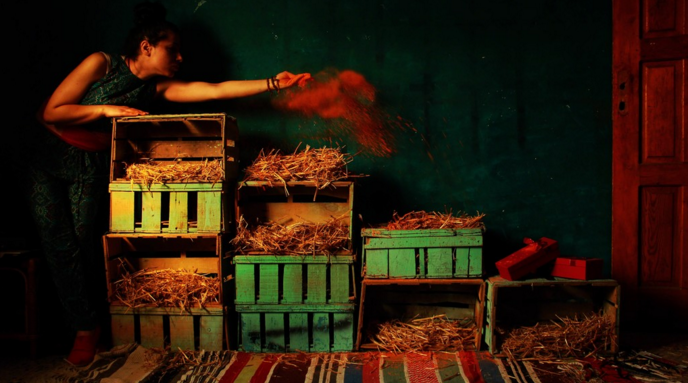 From the series 100 Days of Solitude, 2014 by Nidaa Badwan.
The aesthetic trends and themes consolidated in recent years in conflict zones of the Arab World, The Middle East, or Central and South America, form a core of creative production and cultural reaction to socio-political matters such as occupation, marginalisation, violence, patriarchy, emigration, failed governance, personal and collective freedoms, military rule, and gender and sexual discrimination. Incredibly potent in their ability to encompass all these issues at the level of content, artistic practices in these areas have been, nevertheless, struggling to enter public discourse and animate a debate that could eventually lead to change. A large portion of a generation of artists and cultural makers have been imprisoned or forced into exile, populating however not a zone of the fallen, but one of the empowered. Many artists are turning their exile into a fertile ground for creation, speaking volumes against their perpetrators, even as they are being silenced.
One to iconically turn her silence and oppression into a work of art is Palestinian artist Nidaa Badwan. In 2015, Badwan isolated herself for more than a year in her bedroom in Gaza, in protest of persecution, violence, and daily attacks on freedoms and rights. Declaring public space to be uninhabitable from a creative point of view, she found value in isolation and loneliness, as she was able to explore the room as a space of freedom of artistic expression. During her self-imposed exile, Badwan produced a series of self-portraits titled "One Hundred Days of Solitude."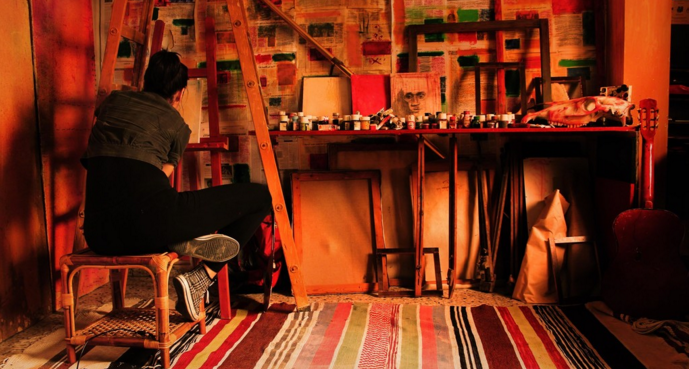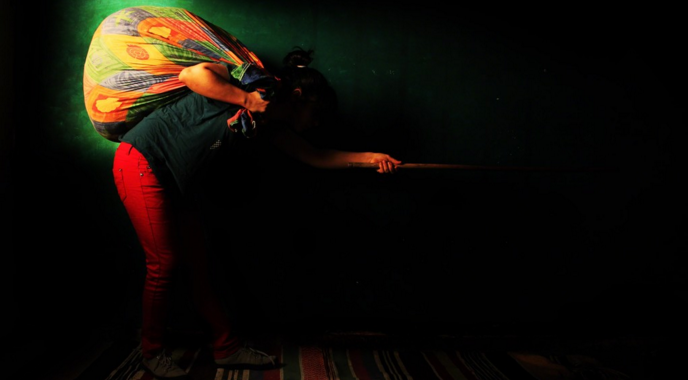 From the series 100 Days of Solitude, 2014 by Nidaa Badwan.
The use of the self-portrait as a genre to visualise loneliness and escape opens a discussion of the self and body as object and gesture of artistic intent: the body in isolation turned towards itself. The staged self-portraits see the artist weeping while peeling onions, using an antiquated sewing machine, and applying make-up in a mirror – all recreating stereotypical episodes in the lives of women. This is perhaps a commentary on the deeply engraved prejudices that produce cracks in the strongest of defences. In her own words, "being an artist and a woman in Gaza is a catastrophe."
Badwan´s running away resembles a siege, with the walls of her apartment symbolically and literally withstanding constant attacks from the outside. She uses objects to make new memories, and records daily episodes of a make-believe life, showing her yearning for a new story. If refugees and dissidents experience a more direct form of displacement, Badwan´s displacement came with a twist: she created an enclave-home in the middle of utter homelessness. Her attempt at producing and conserving a new home calls for a recalibration of the understanding of "home," in this region shaken by conflict, where displacement runs parallel with its recent history.
A more direct form of escape is exactly that – physically escaping the border of a conflict-ridden homeland, which suspends the meaning of "home." Chilean artist and dissident Pablo Andres is one in a generation of artists whose art challenges the politics of a country to the point that they must leave it, for their own safety. Currently an asylum seeker in Denmark, Andres´ work tackles homophobia in the asylum process and forms of racism in Western LGBTQ communities, emphasising the destructive overlapping of the two phenomena. His upcoming exhibition at the Copenhagen-based Centre for Art on Migration Politics titled "William Freeman: You Can´t Hold an Angel" follows the figure William Freeman, an asylum seeker who, in one instance, jumps out of his refugee asylum room, wearing a pair of wings. Resembling the photography of Robert Mapplethorpe, Andres´ work is a statement on objectification, again on the body in solitude, turned into a gesture of creative expression. Escape – perhaps final through death – is visualised directly, while maintaining symbolic value with political undertones.
Running away is a complicated artistic gesture, which sets in motion an entire aesthetic language. If often secondary to the main artistic intention, it is always a gripping, intense act of liberation, which breaks reality and myth into innumerable pieces.
Words: Elena Stanciu