From Miu Miu's 'Women's Tales' to Belstaff's 'Outlaws', the fashion film is undoubtedly in vogue; and Romanian-born designer, Ioana Ciolacu, is bang on trend.
Encapsulating the spirit of her SS'15 'Hunters' campaign, short film 'Lure', directed by brothers Anton and Damian Groves, achieved four awards during the Miami Film Festival 2015 December, and gained a further ASVOFF 8 nomination, alongside video campaigns for fashion industry heavyweights such as Dries Van Noten and Marc Jacobs.
Ciolacu found herself winning the approval of Jean Paul Gaultier and renowned architect Rem D Koolhaas, who appeared on ASVOFF 8's judging panel. It is an achievement that London College of Fashion graduate Ciolacu can add to a growing list of accolades, including winner of the Designers for Tomorrow 2013 award; a prophesy now coming true.
Launching her fashion house in Bucharest five years ago, Ciolacu chose this base over London and Berlin as "a place where one can evolve creatively and business-wise, while staying connected to everything happening in the main fashion hubs around the world." Such industry awareness is clearly evident in the production of 'Lure'.
Drawing attention to the intricacies of her collection, 'Lure' highlights Ciolacu's designs in colour against a mysteriously muted backdrop. Flowers, colibri birds and drops of blood remind viewers of the nature and humanity encapsulated within the forbidden forest that the film creates; and indeed the dynamic collection displayed.
'Lure' is Ciolacu's first collaboration with Anton and Damian Groves, and as Anton explains, its ideas quickly transpired within a friendly and creative environment. The world they created together, however, proves much less cordial. "This story takes its inspiration from the oldest game in nature. The hunt," Anton explains.
"Across the ages, whether we are talking about carnivores or herbivores, flora or fauna… the cycle of predator and prey continues to define the natural world," he continues. "Ciolacu's SS'15 collection inspires the organic, the beauty, the tangibility, but also the cold, the calculated, the ruthlessness, of nature. This contradiction is justified by the two simultaneous roles: the hunter and the hunted."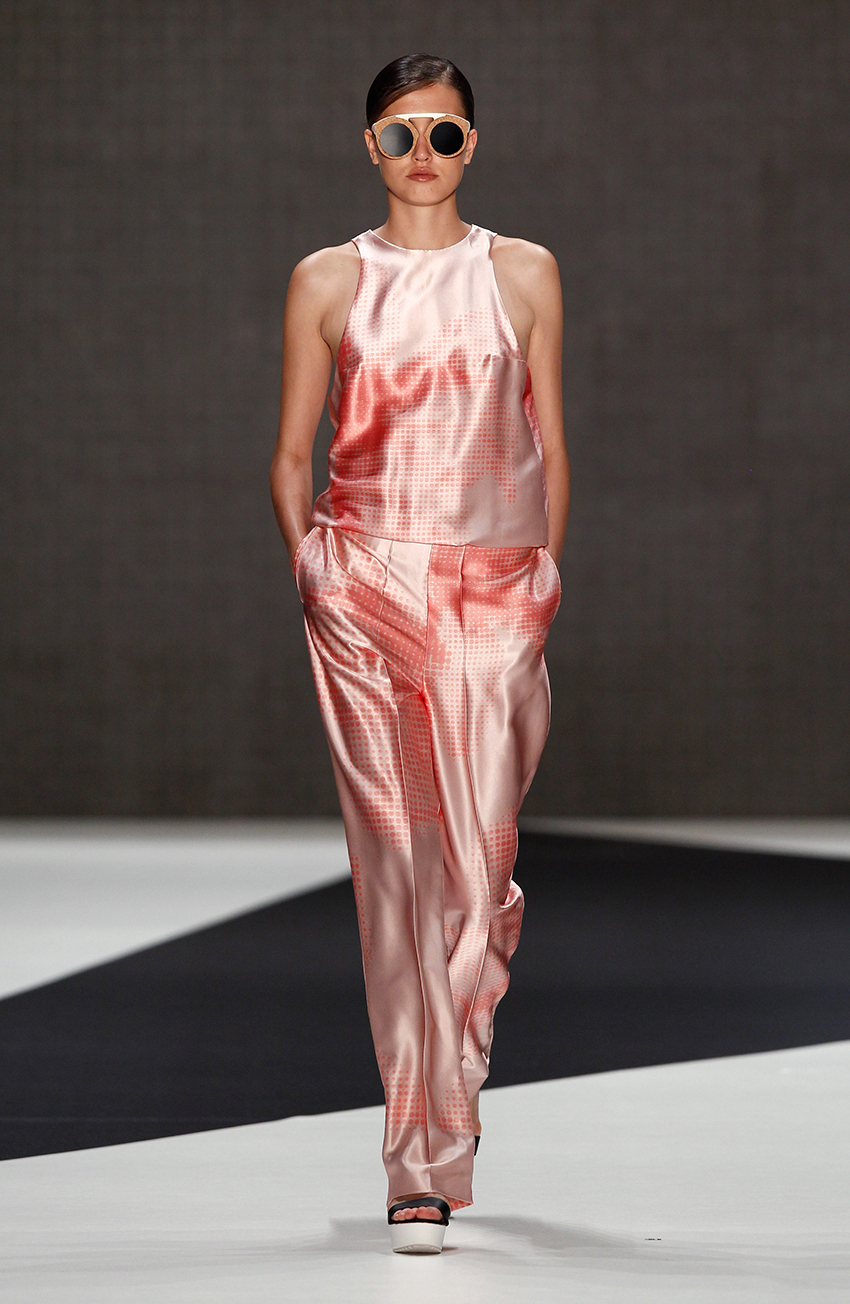 "At any moment they are inverted, from power to weakness, from domination to submission, from concealed to revealed. A constant cycle that ends as it begins." True to name, Ciolacu's clothes are shown in this context as objects of desire used to 'lure' prey in; one example of how her brand is seeking to catch the industry's attention.
And yet, 'Lure' is more than just a successful video campaign. Behind the camera hums the vibrant creativity of minds ad idem – both creatively and aesthetically – enjoying the freedom and story development that the field of fashion film continues to bring.
Words: Sorana Serban
Images source: Stills from Ioana Ciolacu's SS'15 campaign film 'Lure' by Anton and Damian Groves